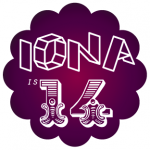 It was a bit of a surprise that a child announced that she wanted a birthday badge to wear to school. No surprise if she had been four, five, six but she was about to be
fourteen
. 'Lots of children wear badges on their birthday at school' she announced on the evening before the day.
Surely teenagers don't want to draw attention to themselves so blatantly: Isn't it the time to test friendships? To see who wished, Facebooked, carded or bought for them and then wallow in teen angst when they find they are not as well loved as they'd hoped.
Rummaging around and inspired by Dougies 'Best in Show 'rosettes (lies) we scrabbled together a not so little badge from wired ribbon a quick printout and a sheet of stick on diamonds from
Poundland.
Kwality!
Dougie's dreaming of winning a show.