It has been so mild I really have not been inclined to think of Christmas this year – including the making of cards. Then sewing one day, I found a snowflake hidden in a cotton reel: This was as close as I might come to snow this season. Given that snow is so rare, I thought it might be amusing to send the precious gift of a snowball, in a small 'snow fake' freezer bag, as a card for 2015.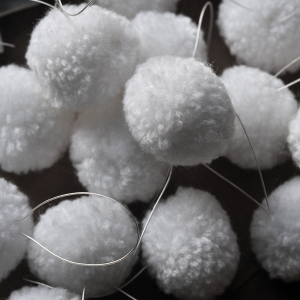 Snowball Cool Bag > Making
Silver material was reinforced with interfacing, cut into lengths and machine stitched.
The bag handle and top were cut.
The Snow Cool Bag sticker was applied.
A snowball // OK – a white pom pom and strung with silver wire to hang as a tree decoration // was put inside the thermal cool bag with a personal message.
Then it was sealed, stamped and posted.
Have a Cool Christmas.