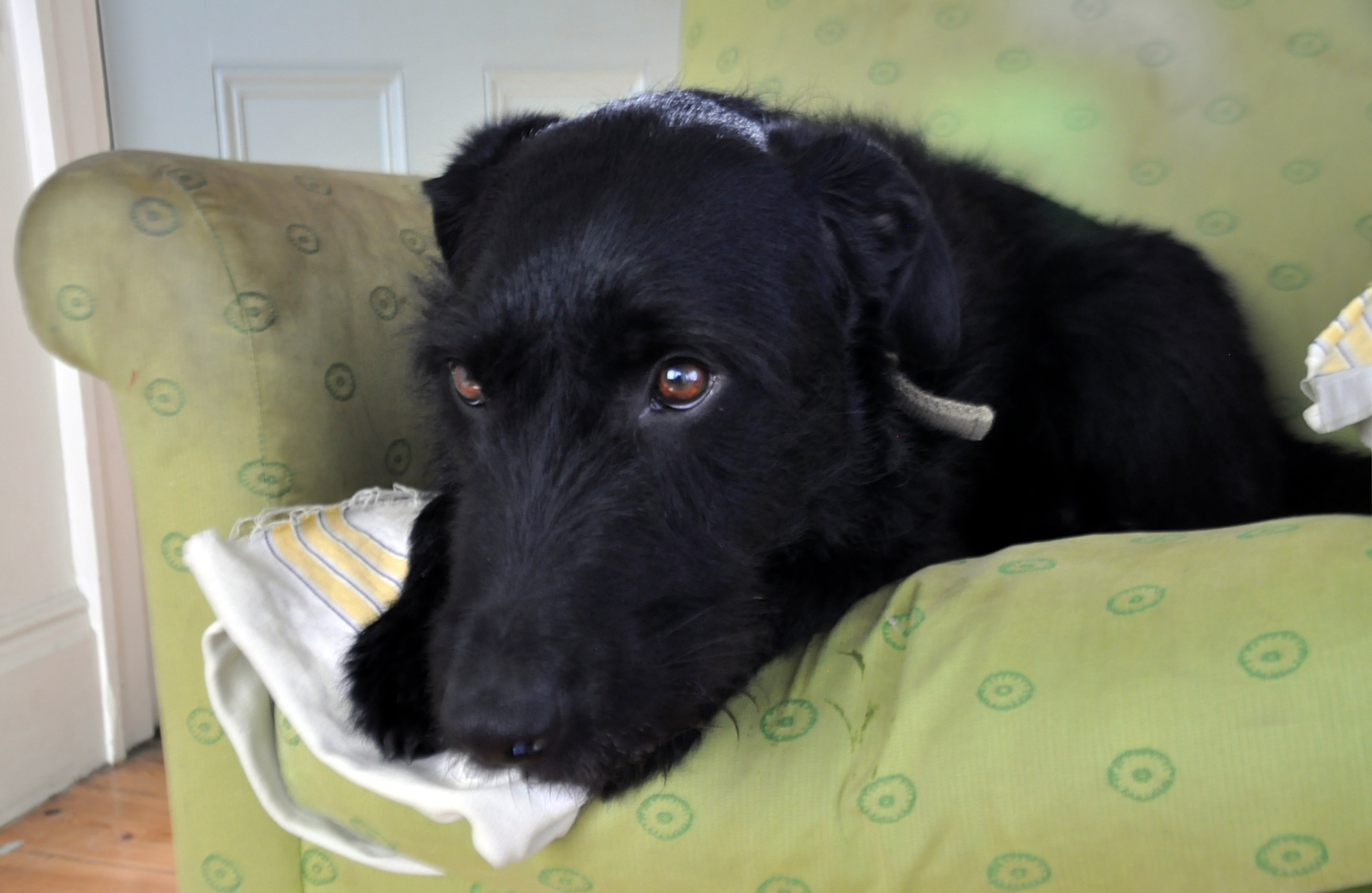 Elephant in the Room
The armchair above was filthy and tatty after years of use and abuse. With a robust and well-built construction, it seemed too wasteful to throw away, too expensive to have recovered. In a circle of indecision – reupholster – replace – loose covers – dump – it occupied a dirty space in my head and the front room.
One day, mumbling around on the internet I came across reupholstering a chair blog.
Broadly, the advice was to:
✂ Take the sofa carefully and systematically apart.
✂ Save the pieces and recut with new fabric.
✂ Sew and staple in reverse order back together. (Easy)
I armed myself with a new staple gun, collected screwdrivers, pliers, material, fireproof padding, tape, ply grip, sacking, to have a go. Contract upholstery remnants, at £15 a metre, were sourced from Ebay as cover material; Flame retardant and hardwearing with a Martindale Rubtest of 40,000+ (apparently), means the fabric should be family and Dougie hardy.
Deconstructing the Armchair
Reverse engineering, I discovered how the fabric faces came together; Ply grip (folded and toothed metal strips) had clamped material to present a tidy outward appearance and disguise the seams. Under this, layers of material had been pulled taut and held with rows of staples, – – – more staples -_ – – and then some staples _ _- – /- -_ – – _ = – – -_ — – – _ \ –_ – _ …and these, I found, would take some time to extract!
Gradually de-metalling, unpeeling foam and fabric layers, I came to the chair's beech bones. I left the suspension and some of the original construction; unexposed until now, it was much like new. I also took reference photos as I dismantled, but I couldn't make sense of them later – every picture looked the same and I wondered if the chair would ever come back together. It made me appreciate the complexity of layering and secrets of the upholsterer – all that hidden gubbins and stapling to present, what once was, a handsome top surface.
Put Back Together Again
Using original pieces as a pattern I cut new ones. I sewed the scroll shapes to the arms and the inside back piece and, like the original, used hessian skirting on pieces for thrift and to flex through gaps. The chair was re-padded where needed and I then started fitting pieces. It wasn't completely straightforward as some parts of layers needed stapling before others but roughly: ① Chair seat, ② 2 x Arms, ③Inside Back, ④ 2 x Sides, ⑤ Outside Back, ⑥ Canvas Base, ⑦ Cushion Seat. The family were most impressed by the cushion seat cover, ironically the easy bit.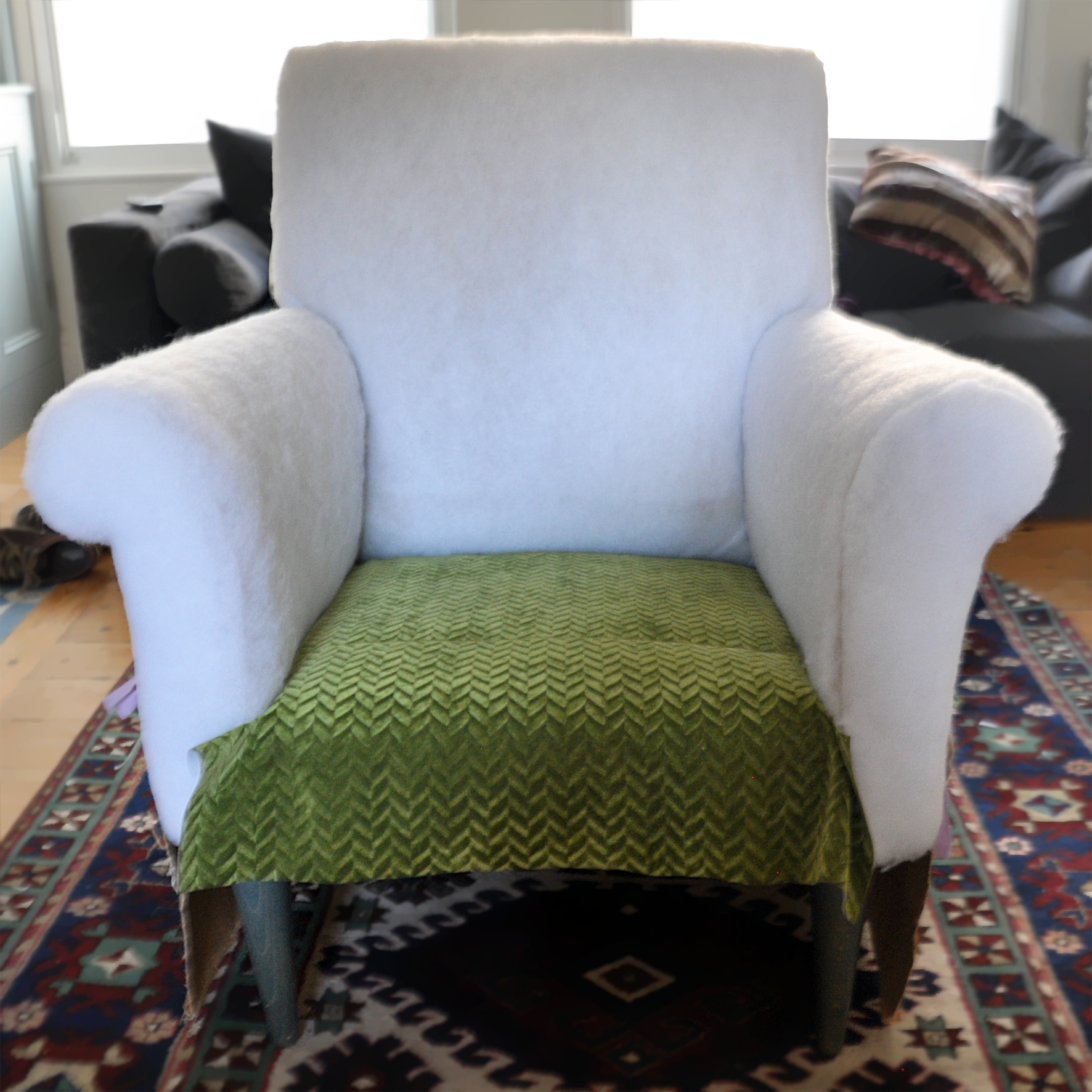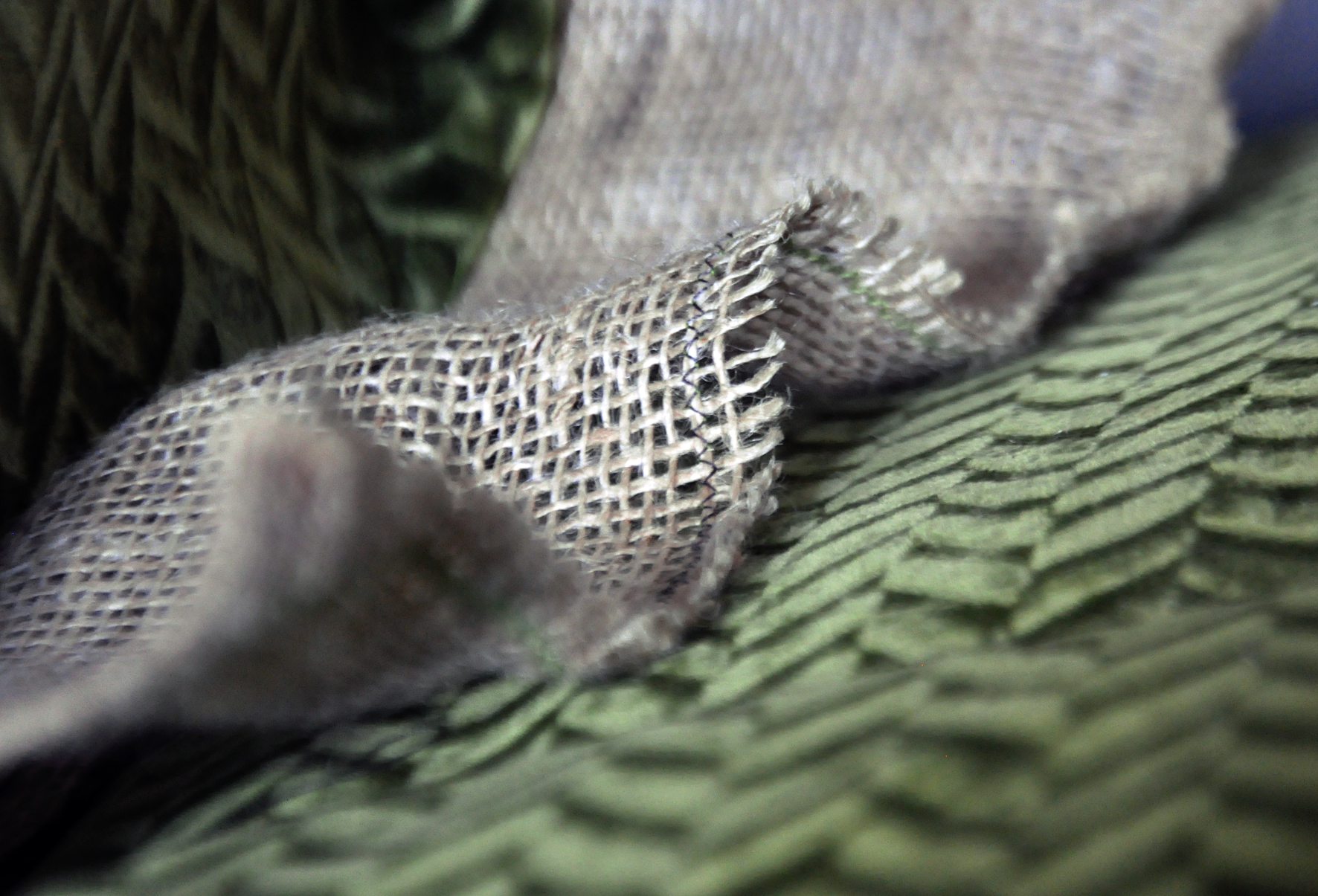 Now Dougie is most definitely not allowed on this chair, or the kids, at least for now…
A professional upholsterer would be horrified at my handiwork, but at least the fabric veneer gives a pretence of finish. And I hope this will give an armchair amateur the courage to have a go too – just don't blame me!