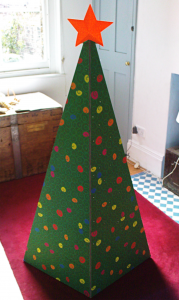 We've made Advent calendar trees – A lollipop each day on the countdown to Christmas.
These trees are a development on a childrens' competition that we ran at the local primary school's Christmas fair.
The sad photo here, is all that remains of the original lollipop tree before it was put into action that winter's afternoon.
For this big Christmas tree, a quick bit of 'Swirl and Bauble repeat Pattern' was printed and pritted onto some salvaged polyboard and cut into this two sided tree.
What can't be seen are holes in the polyboard, primed to take about 200 lollypops. Once these were stuck through the holes they looked like baubles or lights. Even better, some of the lollypop sticks had secret coloured ends. For 20p children could choose their lucky lolly from the tree. A red, purple or yellow stick end meant a small prize as well as their sweet.
Once the word was out, the tree (and me) were mobbed: Children were trying to get a sneaky peak from the back or watching as I tried to covertly refill the tree. Kids mysteriously reappeared with coloured ends to their lolly – but I knew it was a cheat: Those lucky lollypops had a second secret dot – ha! – Nice try though.
Advent Christmas Tree: One
Chose a graphic pine needles design.
A scalloped tree base meant the tree could stand more prettily
A felt date tag gave extra reinforcement for each Lollipop.
We paper engineered a star to wrap around a lollipop for the tree top and made stars in a range of colours.
Test lollipops were mostly Chupa Chups, regular and mini, but sugar free ones would be good for a better tooth experience.
Advent Christmas Tree: Two : Chupa Chups
With further development a Chupa Chups inspired design was created using their colours, scalloped design and logo – An interesting history here.
The lollipops are stored inside the cone with a pull out base – Ideal for point of sale and transporting. Once home, lollipops can be inserted into the tree following the instruction tag.