Wedged between some old books was a brown envelope. And from the brown envelope fell three silhouettes. Three girl heads, my children.
It was lovely to have found them – I wasn't even looking for them. We'd had them cut on holiday when camping in Brittany, France and taken a trip to Locronan.
Locronan though a mellow stone built town, is a touristy honey pot but something 'to do' when the weather's not great.
So from the corner of the cobbled square each small child in turn, had stood as still as they could, on a wooden block for their portrait to be cut.

I'd been to Locronan too, as a young child on a family holiday…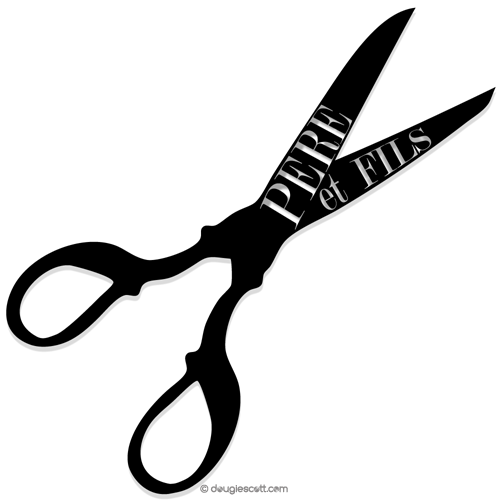 I remember a crowd fascinated as the silhouette cutter drew with his scissors referencing a fidgeting child's profile. After the trip Mum and Dad occasionally reminisced and marvelled at his skill. They'd regretted not having my siblings and my silhouettes cut: The price had not been displayed, their French was poor, they were wary of entering a deal that might have been très cher (I don't recall how much we'd paid for ours but it seemed fair).
I think it was the son of the man, I'd watched as a child, that had cut these portraits – I felt a little reluctantly, preferring to sell the souvenirs on his stall. Had he been coerced into his dad's business?
The cutting was not so much accurate but with stylised conventions of eyelashes and necklines gave an impression of each child.
I was ambivalent about them – they were not quite right – and maybe that's why they became trapped on the bookshelf. But time and nostalgia have caught up. Put in a passable RIBBA frame from Ikea and hung on the freshly painted stairway they are being enjoyed.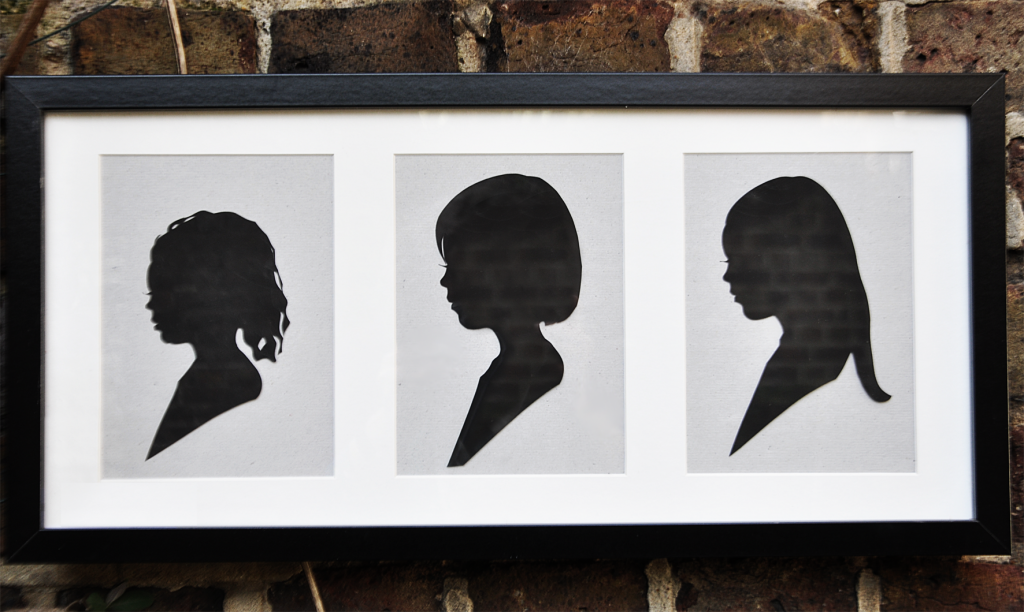 A third trip to Locronan – Now with children in their teens…
Arriving early, we beat the coach trippers but this time we were too early for the silhouette cutter. We could see his empty stall with it's small ad in a corner for the service. I took a couple of shots near the stall of the two daughters who'd come with us, in profile as a the next best thing (and also some weird guy). The youngest and ginger, originally littlest, is now in the middle.