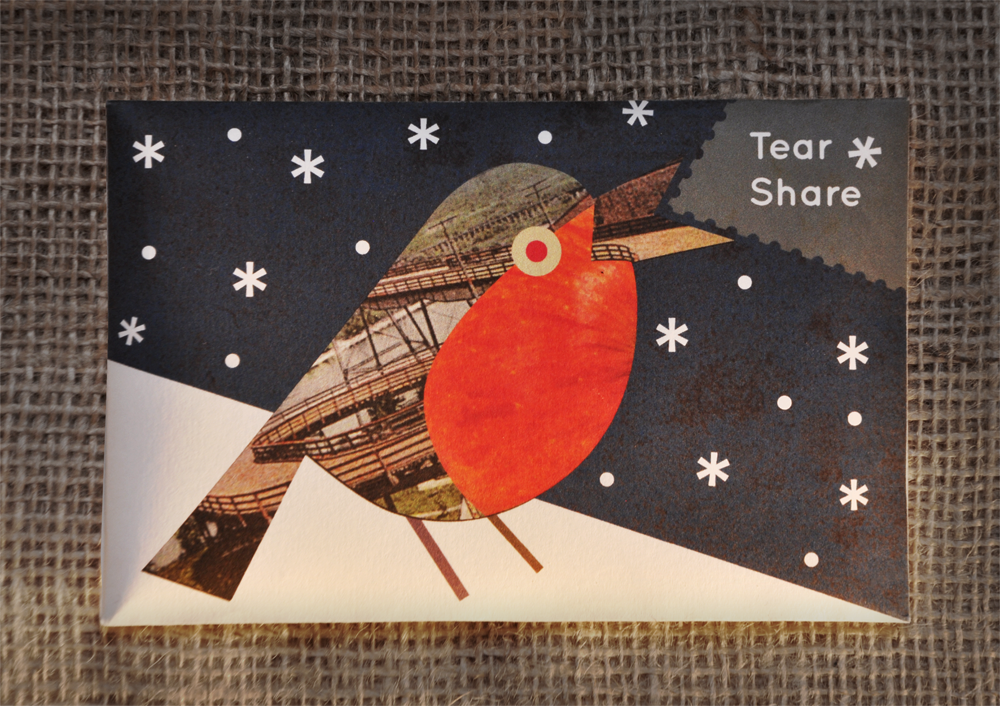 A few days before Christmas we went to get a half price tree from B and Q.
Long gone.
Instead we came home with
big kitchen sponges,
lightbulbs and a big bag of seed for garden birds.
We decided on making some
crafty seedy birdy cakes
shaped from a star cookie cutter as a personal Christmas card this year. However after a couple of lame attempts we gave up. Could put failure down to caking problems and potential postal issues but apathy brought it to a sorry end.A later thought, sew paper robins: Each bird filled with seed would pour from the bird's beak.
After some R+D the design was simplified to print as a fold over card.
This would speed up the making process, present a fun element to the card with the birdseed inside, and make it easy to send through the post – at least I hope they got there safely.
(later – yes they did)
Christmas Robin Bird Seed Envelopes
Two collage robin designs with typed snow.
'Tear + Share' corner can be ripped off so the seed can be poured out.
Corner is perforated for easier tearing.
On the reverse 'Merry Christmas' stamp in the style of an old British postage frank.
Postcard format on the reverse, there's space for name, address and a brief festive greeting.
Stamp or sticker fastens the sheered back flap.
Hoping this was a fun sharing and caring card for friends of those hungry robins and wild birds.