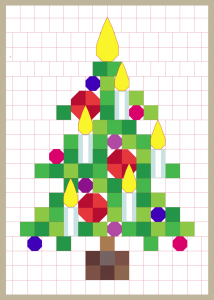 Christmas allows trashy paste sparkles by the sack load: Bejeweled stars, silver bells and shimmering snow earrings adorn party people, then are abandoned to the back of the jewellery box – or the bin – even before the turkey's finished.
I can't help but get drawn to sparkly stuff at this time of year too.
I'd love to be a cool, minimalist stylist but It's never going to happen: Pinterest is awash with items I would not collect if my head ruled my heart.
The Christmas tree motif is one of the best loved for seasonal jewellery and decoration. It has a good structure with lots of possibilities.
I took the motif to decorate some Christmas bags looking particularly at vintage style rhinestone tree brooches. Some pieces based on a grid or pixel like patterns inspired this version. A grid layout design plots out the jewels and tree shape.
The design was developed into Christmas bags and here are three interpretations;
Stained glass tree bag
Extruded tree and star bag. A bundle of Fimo nail canes ( not mine, not Dougies! ) in my drawer here were the inspiration.
Hot jewel tree and star bag.